Hair Loss Products - Quetta
Thursday, 14 April 2011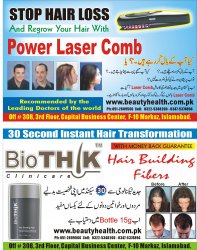 Item details
City:
Quetta, Balochistan
Contacts

Liaqat khan
0092 51 2112988
Item description
Laser Comb for Hair Loss: Do They Work?
Young and losing hair?
What's up with that?!
Do laser combs work?
The answer depends on how badly damage your hair follicles are. Hair loss can be slowed down or prevented altogether if caught early enough. Hence, the sooner you do something, the better.
There are a handful of reasons why hair loss begins. For most, genetics play a large part. But in many cases, it's a matter of the hair follicles being blocked to grow hair. Some follicles that are not growing hair may simply need stimulation and can be saved, which is where laser combs can help. Follicles that are completely damaged will not grow anymore hair.
How do you use a laser hair comb?
The laser comb uses low level laser therapy to promote hair growth. One version has been tested and approved by the FDA, the Power Grow Laser comb. Laser hair therapy has been used in hair clinics around the world. The laser hair comb is a small version made for home use.
You use the laser hair comb just like a regular brush. You comb it over your hair and scalp. And the built in low level lasers stimulate your hair follicles by increasing blood flow. In 5 to 10 weeks time you should notice a considerable difference in your hair quality, strength and thickness.